Whistler in the winter is basically Disneyland for skiers – a huge world-class resort with seemingly endless terrain. But there is so much more to winter in Whistler than skiing. Read the list below to get the locals low-down on the best things to do in Whistler in winter.
1. Downhill Ski or Snowboard at Whistler Blackcomb
Skiing and snowboarding is the reason most people come to Whistler in the winter. Whistler Blackcomb is the largest ski resort in North America with the most uphill capacity. It has been named the best ski resort by ski magazines countless times. With over 200 runs and lots of terrain for both beginners and experienced skiers, there's something for everyone.
2. Heli-skiing and Cat skiing near Whistler
Riding the lifts isn't the only way to ski and ride in Whistler. There are several heli-ski and cat ski companies in the area who will transport you deep into the backcountry, then guide you down untracked slopes. You need to be at least an intermediate skier for this splurge experience.
3. Backcountry Skiing
If you want to explore the backcountry, there are tons of places near Whistler to ski and snowboard. You can access "sidecountry" from the lifts, or explore the mountains around town. Duffey Road (part of Highway 99) north of Pemberton is a very popular place for backcountry skiing. However, you'll need experience and avalanche training to go backcountry skiing in Whistler. Or you can go with a guide to show you the best spots and take care of your safety.
Other Ways to Have Fun in the Snow in Whistler
If you don't ski, you can still have fun in Whistler in the winter. Here are my picks for non-skiing snow adventures. The best part: all of these options are beginner-friendly.
Snowshoeing is my go-to snow sport, and the reason I end up in Whistler a few times each winter. There are lots of great snowshoe trails in Whistler, ranging from beginner to expert, and most of them are free. You can even snowshoe to frozen waterfalls! In my opinion, snowshoeing is the best thing to do in Whistler for non-skiers since you can get out into the snow and don't need any skills or experience to try easy trails.
5. Sledding and Snow Tubing
Nothing says winter quite like a day of sledding. Head to the bubly Tube Park at Whistler Blackcomb and rent a tube. You'll slide down the curving lanes, then ride the conveyor belt back to the top. For some low tech fun, bring your own sled to the gentle hill at Whistler Olympic Plaza in the village.
6. Play in the Snow
You don't have to be a little kid to head outside and play in the snow. Build a snowman, make snow angels, or have a snowball fight. Popular places to play in the snow in Whistler are Whistler Olympic Plaza in the village, Rebagliati Park near Blackcomb Base, or anywhere along the Valley Trail. Don't fortget to bring a beanie!
Extreme Winter Sports in Whistler
If you like to go fast, feel your heart beat through your chest, and get your adrenaline pumping, these extreme Whistler winter sports are for you. You also don't need any experience to try these exciting activities.
In Whistler, you can zipline all year-long. In the winter, you'll enjoy winter wonderland views and snowflakes falling all around you. Ziptrek Ecotours lets you soar like an eagle over Fitzsimmons Creek between Whistler and Blackcomb Mountains. Superfly Ziplines is located 10 minutes north of the village and has ziplines deep in the wilderness.
3… 2… 1… Bungee! Jump off a bridge 50 metres above the Cheakamus River just south of Whistler. In the winter, the river freezes, the surrounding cliffs are covered in ice and snow, and you'll jump into a postcard-perfect winter landscape.
Have you ever dreamed of climbing a frozen waterfall? Strap on some crampons, pick up an ice axe, and make it happen in Whistler. Several local guiding companies offer ice climbing trips. If you're a beginner, they'll show you the ropes. But there are also trips for experienced climbers.
Winter Sightseeing and Tours in Whistler
Sometimes it's fun to sit back and enjoy the scenery. Whether it's snowy landscapes, mountain peaks, icy glaciers, frozen lakes, or local history, you'll see something beautiful on these Whistler winter sightseeing tours.
10. Peak 2 Peak Gondola
Even if you're not a skier, it's worth riding the gondola up into the mountains. The views from the top are spectacular. Your lift ticket includes the Peak 2 Peak Experience. This spectacular gondola connects Whistler and Blackcomb Mountains with a cable that is 436 meters above the valley floor – a world record. Gaze out the windows at the gorgeous mountain views, or ride a special glass-bottomed gondola for an adrenaline-pumping bird's-eye view.
11. Flightseeing Tours
Fly high above Whistler's glaciers and peaks on a helicopter or floatplane tour. There are lots of tours to choose from: glide over Whistler Peak, see Whistler village from above, or head into the backcountry to see mountain peaks and tumbling glaciers. Some tours even let you land on a glacier and explore an ice cave!
12. Sleigh Rides
Go dashing through the snow in a two-horse open sleigh. Jingle bells optional. The nightly sleigh ride tours on Blackcomb Mountain are a magical way to enjoy the snowy forest. They include lots of blankets and a short stop at a cozy cabin to enjoy hot chocolate.
Walk out onto a frozen lake and fish for trout through a hole in the ice. Definitely a bucket list experience. In cold weather, you'll sit inside a portable ice hut or beside a heater, but in milder temps, you can enjoy the scenery around you.
14. Snowcat Tours
If you aren't sure what a snowcat is, you're aren't alone. It's a truck-sized vehicle that uses tracks to move across the snow. Take a scenic snowcat tour to see the twinkling lights of Whistler Valley at night from above. The tours include warm drinks in a glass-topped igloo or fondue at a charming log cabin.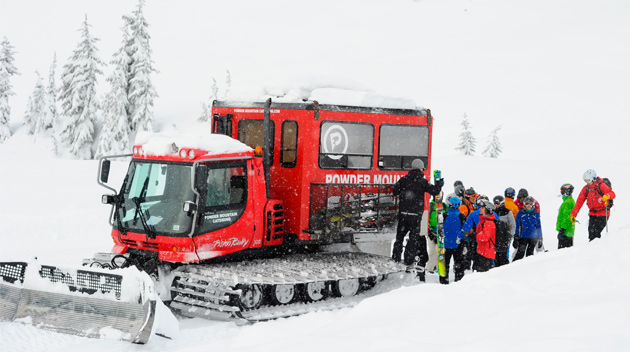 15. Vallea Lumina
This unique multimedia and light experience is truly unique. It's a story-based journey where you walk through the snowy forest encountering lights, sound, and lasers that create a sense of magic in the landscape. I haven't been, but I've heard it is the kind of thing you can't really understand unless you've experienced it.
Things to Do in Whistler Village in Winter
You don't need to leave the village to find lots of things to do in Whistler. You could easily spend a day or two exploring the winding pedestrian friendly streets. Just be sure to wear your winter boots and as it gets pretty snowy!
16. Wander through Whistler Village
Whistler's core is a purpose-built pedestrian village. Some people say it looks a bit like alpine Disneyland. In the winter it's covered in snow and charming twinkling lights. Take a walk on the Village Stroll, a pedestrian-only street that winds past cafes, boutiques, and ski shops. It's a great place to window-shop, people-watch, or just enjoy a walk.
17. Shopping
Since it is an international ski destination, Whistler has surprisingly good shopping for such a small town, and most of it is concentrated around the pedestrian-friendly Village Stroll. You can find your favourite chain stores like The Gap and Lululemon alongside fine jewelry and tons of outdoor and ski shops.
18. Eating
Whistler has an amazing restaurant scene. It's home to upscale fine-dining at places like The Rimrock Cafe and Araxi Restaurant, but there are also lots of amazing casual places where you can show up in your sweaty ski clothes and no one cares.
Relaxing Things to do in Whistler in Winter
It's not all go-go-go in Whistler – it's also a great place to relax. Here are my picks for the most relaxing things to do in Whistler.
19. Go to the Spa
Whistler is home to lots of spas and there's something for everyone. Choose from high-end hotel experiences like The Spa at Four Seasons Resort, classic Swedish massage at Aviva Wellness, or unique experiences like the Javanese style Taman Sari Royal Heritage Spa.
20. Take a Yoga Class
Stretch it out after a day on the slopes. There are two different yoga studios in town: Yogacara and YYoga, If you want to do your asanas with locals, head to a budget class at the Meadow Park Sports Centre (the local community centre). And if you're fancy and staying at the Fairmont Chateau Whistler, complimentary yoga classes are included with your stay.
21. Soak in a Hot Tub
Hot tubbing is a way of life in Whistler. Everyone loves an evening soak after a ski day. And it's extra magical to be in a hot tub while it's snowing.
Most hotels in Whistler also have great hot tubs that only guests can access. On a splurge trip, I loved the incredible indoor/outdoor hot tub at The Westin – you can swim through a doorway from inside to outside. Lots of rental condos also come with hot tubs too.
22. Whistler Core Rock Climbing Gym
With 5,500 square feet of indoor rock climbing space, Whistler Core caters to climbers of all ages and abilities. If it's your first time, take one of their classes. If dizzying heights aren't your thing, check out their bouldering zone where you can climb just a few feet above cushy crash mats – no ropes required.