As far as how light your backpack should be before you can safely switch to running shoes, there's really no magic number. It's totally a personal preference thing.
For me, I'd still wear running shoes even if I carried a 50-60 pound pack. The biggest negative impact of wearing lightweight shoes with a heavier load is that your shoes will wear out faster.
That said, hiking lighter has TONS of great benefits, starting with simply enjoying the wilderness more, so I recommend lightening your backpack no matter what footwear you plan on using.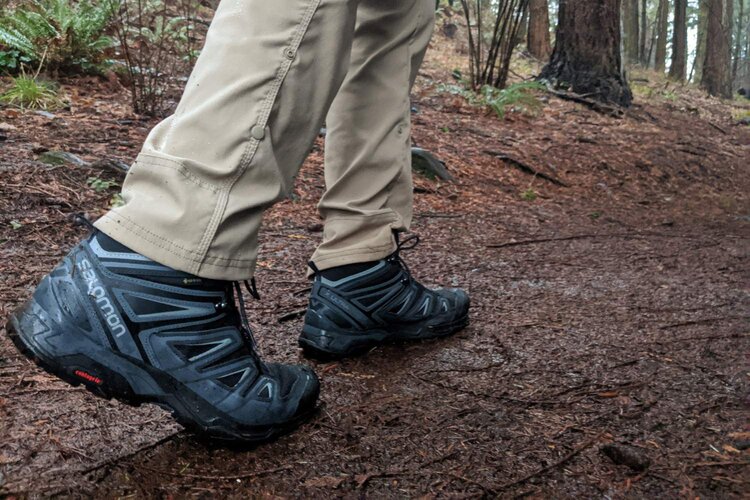 There are those out there that still swear by boots and that's totally fine. If you feel more comfortable in boots, do your thing. That's fine by me and I certainly won't judge you. In fact, we put together our Best Hiking Boots for Men and Women lists just for you!
While I do use them for the occasional day hike (especially in soggy weather), I personally will never go back to hiking boots for backpacking. I hiked the2,650-mile PCT in trail runners and never once did I wish that I had a pair of boots.
I summited snowy mountains, forded icy rivers, crossed miles of snow-covered trail, navigated massive scree fields, and hiked for weeks in the rain. I did all those things in running shoes and I'd still do it the exact same way.
Still Skeptical?
Switching from boots to trail runners is a big change that many hikers worry about. So test it out, just like you would with any other modification to your backpacking routine.
Pack up a full bag and head out for a long day hike in your area. You might love running shoes immediately or it might take some time to get used to, but in the end your feet will definitely thank you for it.
Join in on the conversation by filling out the comment box below. Have you made the switch to running shoes? Did it work out? Do you have any good tips to share? Or maybe you're a staunch supporter of boots? If so, let me know why. I'm always interested in hearing other opinions.
We hope this guide helps you determine what footwear will work best for you. If we missed anything or you have a suggestion, we'd love to hear from you! Use our contact form to drop us a line directly or visit our Facebook page and Instagram to join the community conversation. If you found this guide helpful, please share on social media and click the little heart button below to give us a digital high five!
If you enjoyed this review, you'll probably like our other gear lists as well. Here are some popular resources from the Hikingprostore: